It's been a little while since our last blog post, but we have some very special news to bring you - we're launching IHG University!
What is IHG University and why have we introduced it?
"As a global hospitality business with ambitious plans for growth, it is critical that IHG branded hotels have a compelling and first-class approach to developing people and driving creativity and performance as a team." - Wayne Hoare, Chief Human Resources Officer
IHG University is a brand-new framework which has been designed to champion learning, career development, talent acceleration and best practices for learning at IHG corporate offices and IHG branded hotels. We're all about maximising opportunities for our colleagues and giving them room to grow – and trust us when we say that IHG University will allow us to expand these horizons even further. It'll do this by providing new ways to learn, which will continue to foster a culture of high performance, inclusivity, and creativity within the business. The IHG University experience is tailored to the individual, introducing four different schools, each with a unique offering.
The schools
No matter your interests or aspirations, there's a school to help you grow and flourish.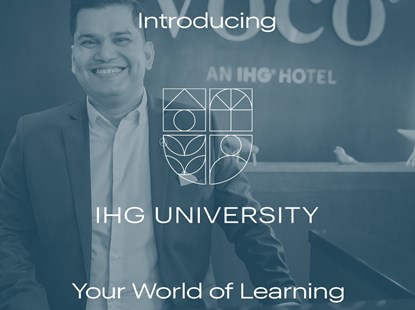 Owner Learning Solutions
Working with our owners to provide targeted learning solutions that support them to optimize operations of their hotels, while complying with IHG's quality and brand standards.
School of Hotel Management
Specifically designed for IHG General Managers and hotel department leaders of both franchised and managed hotels, with specialised and targeted learning and development resources available to help hotel leaders with their own development and team leadership, for better operational and commercial performance.
School of Hospitality
Targeted learning and development resources for our colleagues in both franchised and managed hotels. Resources and support to help colleagues champion excellence in hospitality, effectively run and grow their hotel operations and performance, and provide opportunities for career development.
School of Business Performance
Designed to empower corporate colleagues to effectively support their professional growth, the growth of our business and success of our owners, operators, and investors.
How do I access it?
There are no special entry requirements for the IHG University – all IHG colleagues and team members at an IHG branded hotel automatically have access. You can access IHG University via IHG People Tools, as well as specific learning portals like IHG myLearning . There is no cost to join the university, however there may be a fee for some specific courses.  Simply head over to Our People Tools to get started and learn more about your school. 
Why should I check it out?
Well... why shouldn't you?!  IHG University offers hotel colleagues, including those who work independently and operated IHG branded hotels a wealth of tailor-made learning opportunities to help you accomplish your goals and aspirations within your role in the hospitality industry, improving leadership skills, and supporting your growth and development.  With our offering of learning content set to grow and evolve in the months and years to come, this is truly an exciting time to be part of IHG as an employee or to work at an IHG branded hotel, and we can't wait for you to join us in this new chapter.
Related stories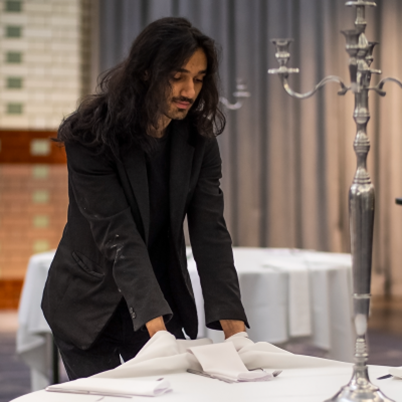 How It Started & How It's Going - Zafir
Read our interview with Zaffir to learn about the support we provide our staff, progression in the business, and his dislike of early starts!
Read more