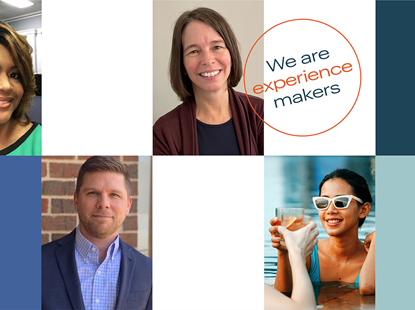 Meet the Experience Makers
Putting wanderlust to work with Barbara Liesenfelt
Off the back of a round-the-world career break, C&T Team Experience Maker and Head of Information Technology, Barbara, joined IHG for the wanderlust potential. 20 years on? The friendships she's made and experiences she's had mean there's nowhere she'd rather be.
When Barbara set off on a globetrotting gap year almost two decades ago, she had no idea where that journey would take her. Let alone that her new found love of travel would ultimately lead to an exciting career in hospitality.
"When I joined, I'd actually come off a round the world trip where I had taken a year off to go travelling. I was really excited to look for an opportunity that tied in to my passion for travel. IHG really fit the bill."
Discovering a culture with room to grow – Barbara quickly progressed from a number of different roles to become a key member of the Technology function of our C&T Team. Helping to lead the charge on data and analytics – she's extremely proud of her part in modernizing the reservation experience for our guests.
"Even during commercially challenging times, IHG has recognised the importance of data and data technology. We made the decision to move forward with our cloud modernization journey, which we're knee deep in right now. It's super exciting. Being part of the team delivering that – and working closely with teams across the globe – is incredibly satisfying."
Like everything at IHG, it's been a true team effort. And, while Barbara joined us for the wanderlust potential, it's being part of such a close, collaborative and challenging environment that has kept her here for so long. The little things that make IHG feel like home.
"IHG really are my second family. We look after each other. We argue like family, we laugh like family...there's nowhere else I'd rather be. The supportive nature of my team and IHG is what keeps me here. If you're ready for a change, the support is always there to keep growing and find opportunities."
If you're looking for your next challenge, we'll help you follow in Barbara's footsteps. #Joinourextraordinaryworld by taking a closer look at our current C&T Team opportunities. The kind of jobs that really can take you places.
Interested in our current IT vacancies? Click on the button below:
Related stories
Living & breathing the brand with Patrick Both
Hear about how Patrick's journey has led him to help redefine a new era of luxury and lifestyle as Kimpton Thailand GM.
Read more