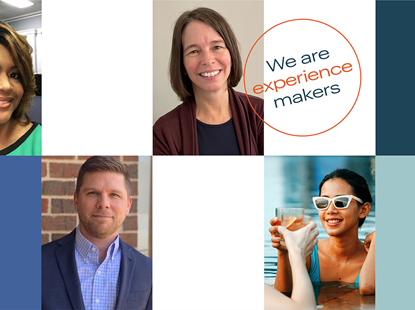 Meet the Experience Makers
Making change happen together with Natalia Sickler
C&T Experience Maker, Director, Security Governance & Hotel Compliance Natalia Sickler, knows that delivering transformative change is a true team effort. Something that's imprinted on the very DNA of the culture here at IHG.
The research Natalia put in before joining IHG told her all she needed to know about where her next career step would take her. A clear roadmap of employee development and consistently high ratings were enough to convince her IHG would offer the opportunities she needed to take pride in her work. Every single day.
"So, what makes me proud? After being here for a couple of years now I know that I can come into an organisation and bring in something new. I've had that opportunity to be promoted to a very challenging role and also impact the company by implementing processes and improving ways of working."
Feeling empowered to deliver real change is a key motivator for the wider team here at IHG – in the C&T department and beyond. We're all on the same page. Which makes cross-department and cross-organizational collaboration second nature.
"It's been very impactful to see how much the company cares. Especially within our C&T organisation. How supportive we are, especially within our own department, within security and how we can leverage each other to accomplish your work goals – as well as some work-life balance."
Finding the perfect balance between being pushed beyond her comfort zone and still able to enjoy life outside of her career has given Natalia room to grow – at work and at home. It's something she feels passionately about. So much so, she's committed to helping others take that same positive step.
"I not only recommend IHG to my friends, but other colleagues. I've actually brought some of my previous co-workers to IHG. I strongly recommend the company for that extra step within their career to expand their skills by coming to work for a great company that allows you to bring in change and stretch yourself. And work with an amazing group of people."
To join Natalia in making change happen – take a closer look at how you can #GoFurtherTogether by exploring our current C&T Team opportunities below.
View Jobs
Related stories
Progression with no limits: Shane's Hospitality Journey
We caught up with Shane De Saram, just one of our many valued members of the IHG family.
Shane embodies the idea that real hard work pays off. Here he lifts the lid on his hospitality journey so far and why this is only the beginning…
Read more