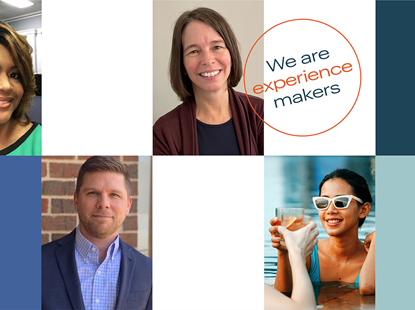 Meet the Experience Makers
Finding the right balance with James Lewis
Feeling challenged at work. Being there for his family. For C&T Experience Maker, Senior Infosec Engineer James Lewis making the decision to #GoFurtherTogether restored a sense of equilibrium to his work-life-balance.
As a Department of Defence contractor – James Lewis quickly established himself as a well-respected Engineer. However, with DoD contracts often only lasting three years, there was very little room for meaningful progression. So, following the birth of his son, James decided it was time for a change.
"My wife and I were living in Florida and wanted move back to the Atlanta area to be closer to family. Up to that point I'd worked as a DoD contractor. Making the jump to the private sector was a little different. I like it a lot better."
Specialising in vulnerability management, James has found the growth culture here at IHG a refreshing change of pace. He's finally been able to get his feet under the table and make the role his own. Already progressing into a new role that's taken him out of his comfort zone and in a slightly different direction.
"I really like the opportunity to grow. Since I've been here, I've had one promotion. It wasn't in the same direct vertical, but when new positions open up here it's highly encouraged for you to grow. Even if you come from a slightly different skill set."
Perhaps the most important change for James has been the shift in work-life-balance. As a busy father of two he often found it difficult to keep all of his plates spinning in previous roles. But all that changed when he joined IHG. For the better.
"Compared to my prior work experience, it's much more friendly to work-life-balance. I'm a father. A husband. And we're a very active family. As long as you're getting done what needs to be done, IHG are much more flexible with my work schedule."
#GoFurtherTogether to start recalibrating your work-life-balance today. Take a closer look at our current C&T Team opportunities below to find the perfect match for you.
View Jobs
Related stories
Progression with no limits: Shane's Hospitality Journey
We caught up with Shane De Saram, just one of our many valued members of the IHG family.
Shane embodies the idea that real hard work pays off. Here he lifts the lid on his hospitality journey so far and why this is only the beginning…
Read more