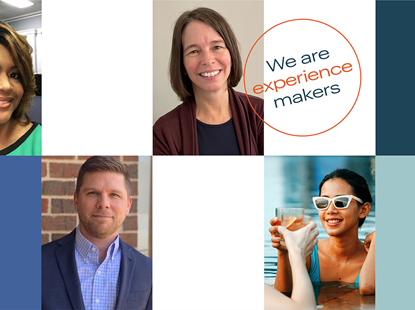 Meet the Experience Makers
Welcome to innovation ground zero with Chris Kennedy
Get to know our newest C&T Team Experience Maker - Director, C&T Delivery & Excellence Chris Kennedy, as he lifts the lid on his first few months at IHG. Including how he's already seeing first-hand how better experiences are at the heart of everything we do.
Throughout his 20-year career, Chris Kennedy has always valued better experiences. A decision that's taken him on a journey from small business to small business in search of that work-family feeling. And one that's always prevented from taking that step-up. Until now.
"I always wanted to move to a bigger company, but I didn't want to sacrifice the smaller family culture. I had a number of friends already working at IHG. Not one of them had a bad word to say about the culture, people or environment. It gave me the confidence to make that step up."
In his first few months here at IHG, Chris hasn't looked back. He may be new to the hospitality world – but our family-first and tight-nit team have given him the warmest of welcomes. Hospitality is in the IHG DNA. Just like our true commitment to putting our customers first.
"I've worked for a lot of companies where people say that we want to focus on the customer. But in IHG, it's truly the mantra. Every conversation starts and ends with the customer…what are we doing to improve their overall experience?"
Working in our small, flexible and extremely sharp Strategy Planning and Performance Group, Chris is very much a key part of this conversation. Our C&T Team Experience Makers are the beating heart of our drive to deliver innovative and industry-leading guest experiences that set the pace in the ever-evolving hospitality world.
"It's no secret that technology is going to be an important growth factor in the hospitality industry...Being in C&T you're at ground zero for where that innovation is going to take place…That growth potential really excites me."
With plenty of ground-breaking projects already in the pipeline, Chris has good reason to be excited about the next step in his IHG journey. To discover how you can #Joinourextraordinaryworld and come along for the ride, why not take a closer look at our latest C&T Team Experience Maker vacancies below?
View Jobs
Related stories
Progression with no limits: Shane's Hospitality Journey
We caught up with Shane De Saram, just one of our many valued members of the IHG family.
Shane embodies the idea that real hard work pays off. Here he lifts the lid on his hospitality journey so far and why this is only the beginning…
Read more