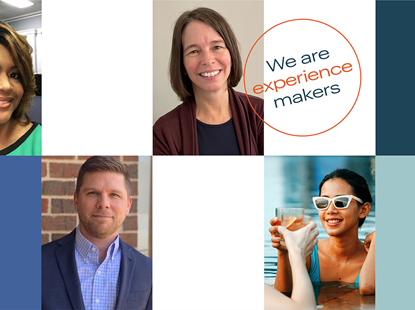 Meet the Experience Makers
Finding room to be yourself with Kerrell Hurt
11 years into his time at IHG, C&T Experience Maker and Head of Global Deployment, Hotel Infrastructure & Integration Kerrell Hurt knows the value of a truly open and collaborative culture. The kind of environment where everybody gets their ideas heard.
Teamwork makes the dream work. That's the mantra of veteran C&T Experience Maker Kerrell Hurt. More than a decade into his IHG journey, he's seen the power of uninhibited collaboration up-close. A key ingredient in some of our most innovative breakthroughs to date.
"One of the key attributes that really shines for me in the C&T space is just room to be who you are, right? Room for you to be accepted and really just come in with your ideas and collaborate with the team."
It all starts with breaking down barriers. Kerrell believes it's crucial that, no matter what your job description is, no matter how long you've been with the team, your ideas deserve to get heard. Which is why our C&T Team work so hard to create an environment where everyone is empowered to contribute.
"It's not: OK, Kerrell, this is your role. OK, Tim, this is your role. OK, Sally, this is your role, right? We really just try to collaborate to figure out how to make it happen. No matter what your role is, let's pull up our sleeves and get it done."
It's an approach that doesn't just enable Kerrell's team to keep up with the competition. It lets them set the pace. Constantly asking how they can do things differently to improve our customer experiences to make sure that IHG raises the bar time and time again.
"Technology constantly evolves. There's not a day when we're not trying to do things better. Do things differently. Enhance the way we were doing things. Just because we were doing it that way yesterday doesn't necessarily mean that we're doing it that way tomorrow or today."
Find room to be yourself. Take a closer look at how you can #Joinourextraordinaryworld with our current C&T Team opportunities below.
Search and Apply
Related stories
A Day for All: How Employers Can Support Colleagues This International Day of Persons with Disabilities
We caught up with Lindsey Shotton for International Day of Persons with Disabilities on how IHG has created a safe and supportive space for colleagues living with a disability.
Read more