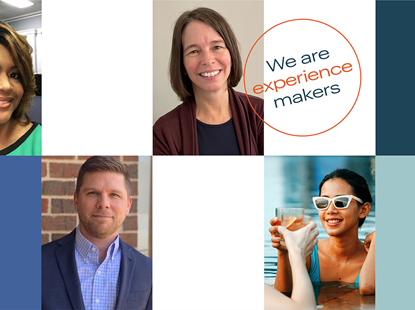 Meet the Experience Makers
High-performance problem solving with Ryan Edwards
C&T Experience Maker, Head of Enterprise Services and Platforms Ryan Edwards, loves a challenge. Making him the perfect person to lead the way on some of our most high-volume, high-performance and high-stakes digital transformation projects.
When a former boss recommended a move to IHG 14 years ago, it was the culture that immediately grabbed Ryan Edwards' attention. Unlike a lot of other big corporates, the welcoming, collaborative and open environment made him feel right at home. Right off the bat. Enabling him to do what he does best: solving problems.
"I like to solve problems. And a lot of the problems that come to life at IHG aren't always present in other places. We have a high volume of users using our systems, and there are unique problems that that come up in high-volume, high-performance revenue generating transactional systems."
Heading up our Enterprise Services and Platforms team keeps Ryan very busy. In the best possible way. Stretching his creativity with daily challenges that push him out of his comfort zone and keep his thinking sharp. But, above all else, there's always room to grow.
"There are new challenges every day. No one day is the same – there's nothing mundane, there's nothing repetitive, there's always something new. Endless opportunities and endless challenges that I can stretch myself against. And it comes to life in a lot of different areas."
Perhaps one of the most exciting opportunities for Ryan comes from finding himself ahead of the curve of emerging and innovative technological breakthroughs. A passion for leading the way and hunger to keep going is what has kept him coming back for the last 14 years. And hopefully many more to come.
"We get to work on more bleeding edge technology – like cloud technologies – helping lead the way there. Solving complex problems, high-volume, high-performance scenarios. Those types of challenges are very motivating to me."
Love a challenge like Ryan? Take a closer look at how you can #Joinourextraordinaryworld by exploring our current C&T Team opportunities below.
Search and Apply
Related stories
IHG University
We have some very special news to bring you - we're launching IHG University!
Read more