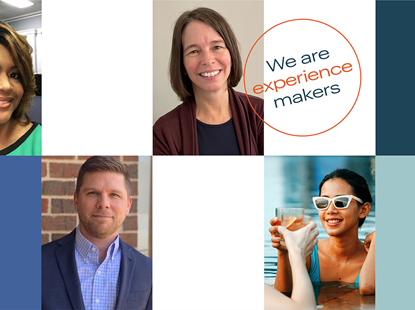 Meet the Experience Makers
Taking business personally with Lawanda Griffeth
When Commercial and Technology Experience Maker decided to move on from her previous job of 20 years, IT Information Security Manager Lawanda Griffeth wanted to work somewhere where her personality could flourish. So, she jumped at the opportunity to #joinourextraordinaryworld.
After being with her previous employer for two decades, Lawanda was in a place where she was looking for change. A fresh start somewhere she could take her best self to work every single day. So, when an opportunity came up to join our C&T Team in 2019 – Lawanda decided to take the plunge.
"You know, I was like: where has this company been all my life? It's just amazing. I'm proud to work here for several reasons, but one, it totally fits my personality…I'm happy to be here. I smile when I wake up just because I love what I do and the people that I work with."
It was love at first sight for Lawanda. But the honeymoon period is far from over. Joining IHG has enabled her to continually build her career around the things that make her unique. Surrounded by people who feel just as empowered to be themselves as she does. A dynamic that creates confidence to really push boundaries.
"I have an incredible work ethic, so I work really hard. But also like to let my hair down every now and then and have fun and engage with my team members. I'm able to be my true, authentic self on every level. When you're able to be your complete self at a company, it pushes you."
It's not just the collaborative nature of her team and engaging culture that have given Lawanda a new sense of belonging. The openness of the leadership group really took her by surprise – helping her feel like she is heard, she adds value and she's included. Every step along the way.
"There's nothing quite like getting an email or a ping from your VP or your senior executive just to say, 'Hey, Lawanda, just thinking about you, hope all is going well with your family'. I've never experienced that before. Never in my 20-year career. It makes you motivated and makes you feel like you have a place here."
 #Joinourextraordinaryworld to find the perfect career match for your unique personality. Get started by taking a closer look at our current C&T Team opportunities below.
To find out more about our Information Security department, please click here
Interested in our current IT vacancies?  Click on the button below:
Related stories
Living & breathing the brand with Patrick Both
Hear about how Patrick's journey has led him to help redefine a new era of luxury and lifestyle as Kimpton Thailand GM.
Read more