Training And Development At IHG: Becoming A Rising Star By Creating A Successful Food And Beverage Career In Vietnam
InterContinental Hotels are full of wonder and surprise – from the impeccable comfort of our rooms to the delights found in our restaurants, there are always new experiences to be had. No day in hospitality is the same and this is why I love my job. I joined the InterContinental Hotel Group on the Future Leaders Programme, an accelerated development programme that provides graduates with the opportunity to develop leadership capabilities, while contributing to the performance and growth of IHG. I am now an Assistant Food and Beverage Manager, a role where I help to manage three restaurants, three bars, in-room dining, a banqueting hall and a convention room! This is a department with more than 200 team members who I oversee…

I mean it when I say that IHG provides their Future Leaders with once-in-a-lifetime opportunities! I wouldn't be where I am today without the solid foundations I built on this programme.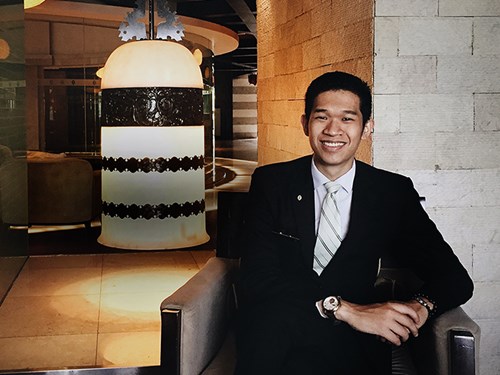 Since day one, I've always had a lot of responsibility, but I've never had to manage this on my own. The training and development opportunities at IHG exceeded all of my expectations, and I believe that the coaching relationships are second to none. I am supported by my manager, my coach and the hotel's General Manager, who is my mentor – they all play a crucial role in my technical and leadership capability development, and have given me the room I need to grow. The thorough training I've received has helped me both professionally and personally, and I now manage a successful, dynamic team of my own.
Training To Become A Future Leader
Coming into the hospitality industry with no previous experience was a little daunting, however, IHG took me on as a graduate and turned me into an experienced Hotelier. It was all a matter of learning each step from the beginning – from how to craft the perfect cappuccino for our guests to understanding the intricate food and beverage function. IHG invests in their people, which is clear, as the learning system provided on the Future Leaders Programme is part of Harvard University. I received accredited certificates on the completion of each module, allowing me to upskill as I learned. As part of the food and beverage team, my training was divided into two sections – fundamental training and leadership training.
The fundamental training part of the programme offered countless courses – it even recreated the restaurant environment to ensure I was learning in the most effective way. I began by studying courses on food standards, which quickly gave me confidence and credibility in my role as a growing leader in my hotel. The sessions were short and convenient, split into bite-size chunks to ensure my learning was continuous. At IHG, the training is tailored depending on your role and function, however, some courses overlap to ensure you understand IHG in the global hospitality context.
The second part of this programme was leadership training. There were numerous modules and different topics to cover, such as how to plan ahead, how to develop your team, how to lead others and how to create change. I completed one topic per week, which included reading time, classroom time and implementation in my daily role. Each week, I felt the tangible difference this training session had on my work and my team.
Inspiring The Team That Inspires Me
As my training developed, so did my relationships at IHG. To this day, as I move around the hotel I say hello to every single team member and take the time to observe the great work that goes on around me. I'd like to think of myself as an approachable manager – my door is always open for each individual, whether they want to speak with me or would like my help setting up a meeting with another manager. My top priority is to help my team succeed and offer them the right training at the right time. We're more like family than colleagues – we know that to be successful we must listen to each other, support every person's ambitions and understand the challenges they face. To ensure that team members have a clear growth path, I have devised personal development plans to track their progress. Each individual is accountable for their own plan, but I schedule frequent meetings to check in on their development and personal goals. My team inspire me every day to achieve my best and I always strive to inspire them too.
Onwards And Upwards
Now, seven years into my IHG journey, I've been offered a unique and life-changing opportunity in the Maldives, where I'll be a key pre-opening team member for the Maldives' first InterContinental Hotel! Everyone has been very supportive of my imminent transition: I've had countless conversations with others who have lived in the Maldives who have helped me to prepare for the cultural change, the weather difference and the cuisine. The training and support I've received has made me very confident about my decision to move and take on this new role. I know that I have my entire Vietnamese hotel family backing me up and willing to help me take this journey.
From my experience at IHG so far, I've learnt that behind every closed door is a world full of new opportunities – so, if you see that door open, make sure you go through it. As a Future Leader at IHG, you'll get to experience this wonderful world with a lot of training and support along the way. Grab this opportunity to make a difference with both hands and don't let go – a career at IHG really is a unique and rewarding experience. I can't wait to start my next chapter with IHG in the Maldives, where I'll help my new team to reach their full potential.
Do you want to work for a company that offers first-class training and constant development opportunities? Find out more and explore what #LifeAtIHG means here.
Related stories
Living & breathing the brand with Patrick Both
Hear about how Patrick's journey has led him to help redefine a new era of luxury and lifestyle as Kimpton Thailand GM.
Read more