Intern-Development
Hotel Brand:
Location: United States, Georgia, Atlanta
Hotel: Corp Atlanta Ravinia, Three Ravinia Drive, Suite 100, 30346
Job number: 116421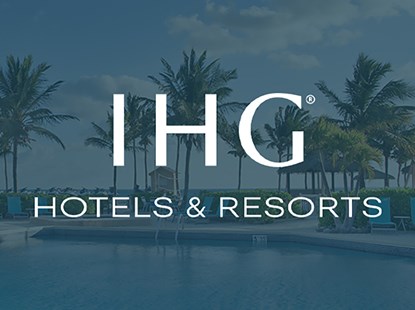 About us
Bringing True Hospitality to the world.
IHG Hotels & Resorts ® is one of the world's leading hotel companies, with 400,000 colleagues working across more than 100 countries to deliver True Hospitality for Good. When you join us at IHG, you become part of our global family - a welcoming culture of warmth, honesty, and inclusion. We pride ourselves on letting your personality and passions shine, recognizing the individual contributions you make, and supporting your ambition to learn and create your own career path. In making a difference to our guests, owners, colleagues, and communities, every day is a chance to create great and unique experiences in your own way.
About IHG Americas Development Team
The IHG Americas Development Team is responsible for achieving IHG's growth objectives for the region, including North America, Mexico, the Caribbean, and Latin America.
The Americas Development Team is broadly split into four functions, including the following:
(i) field-based Development professionals responsible for owner relationships and bringing new development opportunities to IHG,
(ii) Strategic Market Planning & Feasibility responsible for supporting the field-based Development professionals on internal deal approval and ensuring IHG is being strategic in realizing our growth objectives,
(iii) Development Marketing and Development Information & Analytics responsible for providing Development marketing materials and systems support for IHG and the broader Development team, and
(iv) Transactions & Asset Management responsible for oversight of the franchise and management agreements of IHG's existing hotels with a focus on owner engagement, problem solving, and retention of IHG's strategic hotels.
These functions are seamlessly integrated to provide comprehensive support to our owners and internal stakeholders.
Americas Development Summer Internship Program
The Americas Development Summer Internship Program has been thoughtfully designed to allow students with an interest in hotel development exposure to the development process from opportunity sourcing, deal structuring, committee approval, and lifecycle management of the hotel's performance and adherence to contractual terms post-signing.
The Development Summer Intern will primarily be tasked with shadowing and supporting (i) the Strategic Market Planning & Feasibility and (ii) Transactions & Asset Management teams as further described below.
Strategic Market Planning & Feasibility
The Strategic Market Planning & Feasibility team supports IHG's Americas Development by assessing the desirability of specific locations in the Americas region, and determine the value, desirability and brand fit of a new or converted hotel into the franchise system. This includes providing analytical support regarding strategic and operational questions across multiple functions (including development, brand strategy and franchise operations).
A major part of the work in Market Planning includes conducting analyses to understand insights regarding market dynamics, business models, emerging growth opportunities, competitor actions, IHG capabilities, IHG economics, and industry financial drivers. Additionally, the Market Planning team is responsible for understanding the effect of a new proposed hotel entering the system and the impact that could occur on existing IHG hotels.
Transactions & Asset Management
The Transactions & Asset Management ("TAM") team supports IHG's Americas Development by leading strategic and critical projects to ensure IHG retains and grows its estate of management and franchise agreements (together, the "Contracts"). These Contracts are the assets of the company that TAM is charged with managing by maintaining and enhancing the assets' value to IHG. TAM responsibilities include coordinating efforts to maintain existing Contracts, resolving existing and new Contract issues, driving IHG's investment in strategic initiatives, working on IHG's distressed asset portfolio while balancing the needs of internal IHG stakeholders as well as those of owners, third-party managers, lenders and master/special servicers. This role includes supporting due diligence efforts, negotiating Contracts, following up on deal particulars, and coordinating deal terms with Brand Management, Regional Operations and Finance.
In addition to shadowing and supporting the Strategic Market Planning & Feasibility and Transactions & Asset Management teams a Development Summer Intern will gain broad exposure to functional departments and leaders across IHG. We will do our best to match an intern's area of interest with cross-departmental exposure to Brand, Legal, Finance, Investment Analysis, Architecture and Design, or other areas of interest.
Who We Look For
We're looking for emerging leaders that have ambitious personal and professional goals, a willingness to gain and share experiences, and a commitment to celebrating diversity in the workplace. In return, we will provide an unforgettable experience designed specifically to help you gain an insider's view of the hospitality industry as well as applicable skills for a career in hotel development.
A candidate for this position must be a good communicator, able to work independently, manage a large volume of projects, and think outside of the box to resolve critical and complex problems.
Essential Duties and Responsibilities
Please note: No attempt is made to represent all the various tasks for each internship. Although interns may not perform all duties, those listed below reflect the nature, level, and difficulty of responsibilities common to positions in this job.
• Facilitate and support the expansion and retention of IHG brands primarily through management and franchise agreements of assigned brands in the Americas region. Identify and qualify development opportunities for assigned brands and region. Work closely with Development leadership to assist the team in marketing IHG brands to prospective franchisees, performing activities aimed at meeting development goals and targets and executing deals. Demonstrate behavioral proficiencies to include excellent communication and organizational skills, sales and relationship skills, market and competitive knowledge, financial/analytical skills, and sound reasoning.
• Complete and/or coordinate activities related to assigned special projects, including project timelines, action items, and status updates
• Timely execution to meet established deadlines
• Low- to medium-complexity qualitative and quantitative data research and analysis
• Preparation of reports and/or presentations, utilizing Microsoft Excel, PowerPoint, and/or statistical software as needed
• Serve as internal and/or external liaison for departmental activities
• Maintain a consistent, high quality customer-focused orientation, including providing clear, accurate information; explaining procedures or materials or providing supplemental information; anticipating problems or questions; or referring customers to appropriate contacts within the unit, department or division.
• Compose and prepare clear and concise correspondence as requested or required.
• Perform tasks as assigned to facilitate the smooth operation of the assigned work area.
What we need from you
Education
Undergraduate student with an interest and focus on hotel development currently enrolled in an accredited school program.
Technical Skills and Knowledge
• Professionalism in oral and written presentation, communication, and attire.
• Demonstrated emotional intelligence for relationship building and effective team collaboration and stakeholder engagement.
• Proficiency in a variety of software packages (i.e. Excel, Microsoft Word, PowerPoint, e-mail, etc.).
• Effective oral and written communication skills to convey information to a wide range of internal and external stakeholders.
• Strong analytical and problem-solving skills. Ability to analyze and draw conclusions from complex financial, statistical and market/sales data. Proficiency in paying attention to details.
• Demonstrated ability to handle multiple assignments and projects accurately and with attention to detail, along with proactive follow-through.
• Demonstrated problem-solving skills for navigating a large-scale organization and resolving issues in a timely and effective manner.
• Ability to work independently and with minimal supervision across a global organization and in a hybrid or virtual work environment.
Specific/preferred skills include:
• General understanding of modeling hotel proformas and investment analyses.
• Exposure to reviewing and negotiating business terms within hotel Contracts.
• General knowledge and understanding of the following hotel-related areas: investor practices, capital markets, purchase and sale agreements ("PSAs"), property-level operations and real estate markets.
• Excellent communication skills including strong writing ability and extensive experience preparing effective PowerPoint presentations.
What we offer
We'll reward all your hard work with a competitive hourly wage and meaningful benefits for the summer – including great hotel discounts and superb training.
Join us and you'll become part of the global IHG family – and like all families, all our individual team members share some winning characteristics. As a team, we work better together – we trust and support each other, we do the right thing and we welcome different perspectives. You need to show us you care, that you notice the little things that make a difference to guests as well as always looking for ways to improve - click here to find out more about us. IHG is an equal opportunity employer. Minorities, individuals with disabilities, veterans, and all genders encouraged to apply.
At IHG, we've made a promise. As one of the world's leading hotel groups, we're here to deliver True Hospitality for Good. Making our guests and colleagues feel welcome, cared for, recognised and respected – wherever they are in the world. Want to be part of the journey?
We need people like you to make a difference and create exceptional experiences every single day. Don't just join a growing team of 370,000 colleagues across 100 countries. Let your passion shine. Innovate and collaborate around the world. Embrace your ambition.
Let's Go Further Together.
Don't quite meet every single requirement, but still believe you'd be a great fit for the job? We'll never know unless you hit the 'Apply' button. Start your journey with us today and let's #GoFurtherTogether.