Design Manager, Design Strategies
Hotel Brand:
Location: United States, Georgia, Atlanta
Hotel: Corp Atlanta Ravinia, Three Ravinia Drive, Suite 100, 30346
Job number: 115757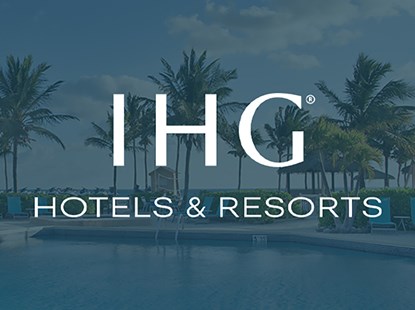 About us
Bringing True Hospitality to the world.
We want to welcome you to a world of bringing True Hospitality to everyone. When you join us at IHG®, you become part of our global family. A welcoming culture of warmth, honesty, and a passion for providing True Hospitality.
We pride ourselves on letting your personality and passions shine, recognizing the individual contribution you make and supporting your ambition to learn and create your own career path. In making a difference to our guests and owners, colleagues and communities, every day is a chance to create great and unique experiences, in your own way.
With over 370,000 colleagues in nearly 100 countries sharing our values, there's countless opportunities at your fingertips.
We're growing; grow with us.
Role Purpose
The Design Strategies Manager supports IHG's efforts in accelerating guest and owner insight-driven design initiatives in the America's region. Additionally, this role helps to establish original/innovative designs strategies to include prototype designs and integrate them into the America's region for New Development hotels, as well as hotels undergoing a renovation. This role reports into Regional Director of Design Strategies, Americas Design and Construction.
Support IHG's efforts in accelerating guest, and owner insight-driven and innovation lead design. Working with global and regional counterparts help to identify highest potential value platforms for guest, owner and IHG and develop concepts which unlock opportunity within these platforms. Help to establish prototype designs and integrate them into your region for New Development hotels and hotels undergoing a renovation (Property Improvement Plan or Voluntary Renovation). Support regional brand teams as they develop regional standards, adapt global standards, and implement. Provide the interface between global direction and regional implementation.
Key Accountabilities
Works as a collaborative member of a multi-disciplinary, high-volume, schedule-oriented design and project management team.
Manages America's regional brand design projects from concept through commercialization by working with regional Brand Management and Architecture & Design teams to create and deliver design principles, SRD programs, model rooms, prototype designs and guidelines for all brands within the region in accordance with specific project budgets, deadlines, and/or direction established by Senior Management.
Represents the design team to internal and external stakeholders, communicating the status of brand pipelines and aggregated project trends, design issues, and owner feedback.
Applies design talent to problem solving design exercises to achieve cost efficient results that align with the brand standards and brand strategy by championing design and architecture in the region, facilitating best practices and customer trend evolutions.
Works with and presents to hotel owners of our brands to build excitement and endorsement about both current and new brand design initiatives and programs.
The ability to speak and present like a leader and earn the trust and commitment of the senior leadership.
Technical
Liaise with the Global and Regional Brand standards team to supply all relevant data to enable design standards to be written and implemented within the Americas region.
Organize and supervise remodeling of model rooms at IHG Design Center or in hotel (e.g., negotiate pricing, plan budget and schedule, dispose of existing furnishings, purchase new furnishings, ensure process and receipt of orders, coordinate delivery and storage of furnishings, schedule and supervise installation, ensure successful project completion).
Assist with periodic meetings with Principal Correspondents (Owners), architects, designers, and contractors to discuss renovation requirements, construction direction, and design plans for specific projects. Consult with/guide the project team members through the design process and into the construction/renovation phase to ensure consistency of product. Responsible for communicating any design or construction trend changes or improvements to keep the brand's Architecture & Design requirements current and competitive. Assist in resolving conflicts between SRD providers and hotel ownership. Monitor and report non-compliance of vendors.
Work with Global Procurement (PaCE) to evaluate Program Suppliers and products prior to signing contracts, as well as clarify or resolve design issues with such suppliers. Review existing and potential service providers for referral list.
Prepare installation, construction, and consultant contracts in cooperation with the Procurement and Legal Departments
Key Skills & Experiences
Education
Bachelor's or master's degree in Interior Design, Architecture or an equivalent combination of education and work-related experience. AIA or ASID certification preferred. Architectural or Interior Design License preferred.
Experience
8+ years of extensive progressive work-related experience in design and or architecture, with demonstrated proficiency in multiple disciplines related to the position. Must have 2 years prior project management experience and 2 years hospitality design experience.
Technical Skills and Knowledge
Must have proven experience of completing hospitality projects.
Ability to work in a high volume, fast-paced, deadline-oriented environment as a member of a collaborative team. Responsive to demands from multiple stakeholder groups and able to understand and balance consumer, managerial and ownership perspectives.
Ability to manage multiple priorities and resources. Ability to effectively prioritize project details and manage time. Must make immediate time available to work with franchisees when problems arise regarding brand design projects, Brand standards or vendor-related issues. Strong problem solving and time management skills required.
High degree of personal drive, self-starter and able to work independently without regular direct/local management. Attention to detail and ability to manage multiple tasks required.
Inquiring mind with an understanding of innovation, design and guest experience and the challenges involved in implementing successful change within IHGs business model including strong business acumen and strategic thinking ability.
Extensive and credible appreciation of brands.
Able to assess the scope of implementation of proposed innovation/design proposals quickly and accurately and up-to-date on current trends and innovation in the sector.
High level of capability and credibility in influencing peers and senior management across functions and regions. Must be confident, diplomatic and able to work across all levels of the organization with strong analytical and interpersonal communication skills.
Commercially astute and able to develop credible ROI`s for design initiatives with a good 'real world' sensibility when applying strategic solutions.
Demonstrate knowledge of brand standards and full understanding of the differences in the various brand standards. Must maintain a working knowledge of all requirements described in each brand standards manual.
Demonstrated ability to read design documentation and construction drawings including architectural, mechanical, plumbing, sprinkler systems and electrical drawings. Demonstrated knowledge of FF&E (furnishings, finishings and equipment)/OS&E (operating supplies and equipment). Ability to interpret design boards and specifications and provide free-hand renderings, layouts, or other drawings to clarify design issues or as the need arises.
Ability to remain current with construction trends, code requirements and design through participating in annual continuing education classes. Must have knowledge of national building codes and ADA requirements.
Demonstrated ability to effectively manage large-scale design projects and budgets with minimal direction. Must have project management experience in organizing, planning, and executing complex projects from conception through implementation.
Assist Brand Management Teams in the design and procurement of Brand Design Scheme FF&E needed for the IHG Investor's Conference.
FF&E Spec writing software
High proficiency in AutoCad, Revit, Bluebeam, Adobe Creative Suite (Photoshop, Illustrator, InDesign), SketchUp or 3D equivalent, hand sketching, and Microsoft Office Suite.
What we offer
We'll reward all your hard work with a great salary and benefits – including great room discount and superb training.
Join us and you'll become part of the global IHG family – and like all families, all our individual team members share some winning characteristics. As a team, we work better together – we trust and support each other, we do the right thing and we welcome different perspectives. You need to show us you care, that you notice the little things that make a difference to guests as well as always looking for ways to improve - click here to find out more about us.
At IHG Hotels & Resorts, we are proud to be an equal opportunity employer. IHG Hotels & Resorts provides equal employment opportunities to applicants and employees without regard to an individual's, race, color, ethnicity, national origin, religion, sex, sexual orientation, gender identity or expression, age, disability, marital or familial status, veteran status or any other characteristic protected by law. IHG is committed to promoting a culture of inclusion where everyone feels safe, respected and valued. We seek talent from all backgrounds to join our teams, and encourage our colleagues to bring their authentic and best selves to work.
Not Applicable for Colorado applicants.
At IHG, we've made a promise. As one of the world's leading hotel groups, we're here to deliver True Hospitality for Good. Making our guests and colleagues feel welcome, cared for, recognised and respected – wherever they are in the world. Want to be part of the journey?
We need people like you to make a difference and create exceptional experiences every single day. Don't just join a growing team of 370,000 colleagues across 100 countries. Let your passion shine. Innovate and collaborate around the world. Embrace your ambition.
Let's Go Further Together.
Don't quite meet every single requirement, but still believe you'd be a great fit for the job? We'll never know unless you hit the 'Apply' button. Start your journey with us today and let's #GoFurtherTogether.